Barnenez Cairn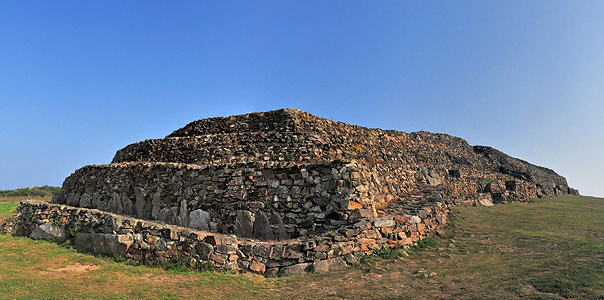 Neolithic monument, dated to Neolithic 4800 B.C.E.(?), considered the world's second oldest man-made structures, located near Plouezoc'h, on the Kernéléhen peninsula in northern Finistère, Brittany, France; built in two phase to contain eleven tombs. Radiocarbon dates indicate that the first phase of the monument, with five tombs, was erected in the fifth millenium, between 4850 and 4250 B.C.E., and the second phase, with 6 tombs between 4450 and 4000 B.C.E. Pottery found in and around the monument indicates that it underwent a period of re-use in the Bronze Age, later in the 3rd millennium B.C.E. The construction uses 14,000 tons of stone and is 72 meters long by 25 meters wide by 9 meters high.
Elevation is c. 41 meters (133 feet) above sea level.

Materials: 12,000 to 14,000 metric tons of granite and dolerite stone.
Data for CG model:
1. Le Roux, Charles-Tanguy et Lecerf, Yannick, 2003. Le grand cairn de Barnenez - Mau solée néolithique, Monum, Ed. du Patrimoine, coll. « Itinéraires du patrimoine.
2. Briard J. & Fediaevsky N, 1987. Mégalithes de Bretagne. Rennes : Ouest France,
3. http://www.barnenez.fr/en