Casamero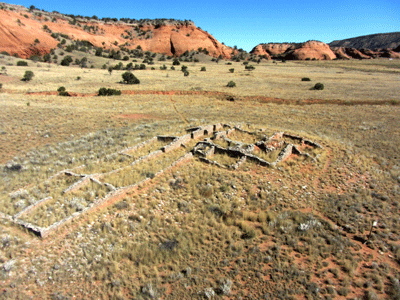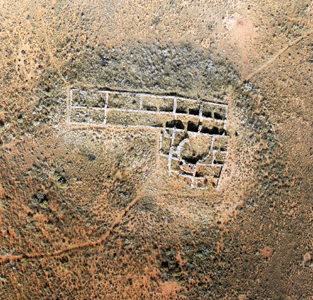 San Juan Basin Ancestral Puebloan Civilization, this Chaco Outlier in the Red Mesa Valley of New Mexico, is located 67 kilometers (42 miles) south of Pueblo Bonito, Chaco Culture National HIstoric Park. Andrews Great House (see below) is nearby. Dates of artifacts found by archaeologists suggest that habitation of the site was from 655-1158 C.E. The Great House contains 29 rooms and 1 kiva, and had a maximum population of 51.The L-shaped multi-story pueblo measures 20 x 30 meters (65 x 98 feet).
Elevation is 2110 meters (6920 feet) above sea level.
Materials: Walls are 50 centimeters (20 inches) thick with stone veneer with rubble cores, stuccoed; Roof visas (purlins and beams) were piñon and juniper, covered with closely spaced latillas, fiber mats and adobe.
Data for CG model:
1. Kantner, John, 2010; Casamero in the Chaco World, Chapter 10 in book, The Casamero Community in the Red Mesa Valley of Northwestern New Mexico, Archaeological Society of New Mexico, Editors: F. Joan Mathieu.
https://www.researchgate.net/publication/259345050_Casamero_in_the_Chaco_World
2. Marshall, Mike, et al, 1979; Anasazi Communities in the San Juan Basin. Santa Fe Public Service Company, Albuquerque, and the Historic Preservation Bureau, 1979.
https://www.academia.edu/16186758/Anasazi_Communities_of_the_San_Juan_Basin
3. Powers, Robert, P; Gillespie, William B.; Lekson, Stephen H., 1983; The Outlier Survey, A Regional View of Settlement in the San Juan Basin, National Park Service, U.S Department of the Interior, Division of Cultural Research. Reports of the Chaco Center, Number Three, 1983.
https://archive.org/details/outliersurveyreg00powe