Caucasian Dolmen at the Adignalovo Site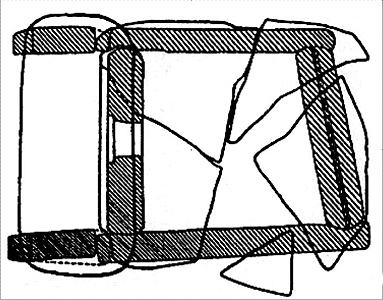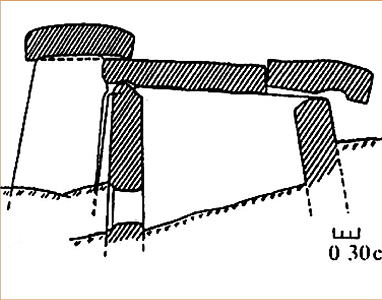 Portal Dolmen no 8, prehistoric civiliztion in the Tuapse Region, Anastasievka village, Adignalovo site, Caucus, Russia. Although it is unknown who built the dolmens, some archaeologists believe ancient Vedic civilization constrructed the dolmens dated at 3000 BCE to 8000 BCE. There are thousands of dolmens scattered all over the world. They exist in Germany, France, Spain, England, Holland, Switzerland, Israel, Netherlands, India, Korea, Japan, Vietnam, as well as in the Americas and in the South of Russia, Northern Caucasus. (See elsewhere is this volume: Hang Gon dolmen, Vietnam). The purpose of dolmens is also unknown, but believed by many to be "spirit houses"; evidence that they were used as tombs is controversial. Construction consists of four rectangular plates set upright to form the four walls of an enclosure, with a fifth lying horizontally as a rooftop and a sixth plate making up the base. As a rule there is an aperture in the front cross-section plate, most often round, sometimes with a stone fuse, and usually too small for an adult human to access. The plates are most commonly connected in a groove. The walls of some of the dolmens are inclined. Interestingly, recent research has shown the possibility of the Western Caucasus dolmens being constructed by forming/casting of all building elements with fluidogenic outcrop material radiocarbon dating to 24240 ± 190 years ago, rather than Mesozoic solid rock slabs [see Data Source 2 below]!
Elevation is c. 64 meters (209 feet) above sea level.
Materials: Cast, tilt-up slabs of fluidogenic outcrop mateial (!)
Data for CG model:
1. V.I.Markovin, 2003; Western Caucasian Dolmens, Mysticism, Scientific Opinions, and Perspectives on Further Study, © 2003 by M.E. Sharpe, Inc., from the Russian text © 2000 by V.I.Markovin and the Institute of Archeology, Russian Academy of Sciences. "Dol'meny Zapadnogo Kavkaza: mistika, nauchnye mneniia i perspektivy dal'neishego izucheniia," Rossiiskaia arkheologiia, 2000, no. 4.;
https://www.circassianworld.com/pdf/Western_Caucasian_Dolmens_Markovin.pdf
2 http://article.sapub.org/10.5923.j.archaeology.20130202.04.html
3. Dolmens of Russia: https://ecominded.net/dolmens-of-russia
4. Trifonov, V. A., Zaitseva, G. I., van der Plicht, J., Burova, N. D., Bogomolov, E. S., Sementsov, A. A., & Lokhova, O. V. ; 2012; The Dolmen Kolikho, Western Caucasus: Isotopic Investigation of Funeral Practice and Human Mobility. In Radiocarbon, 54(3-4), 761-769.
https://doi.org/10.1017/S003382220004741X