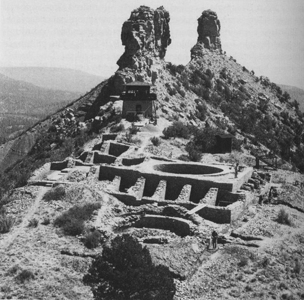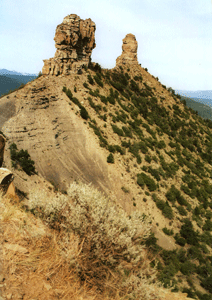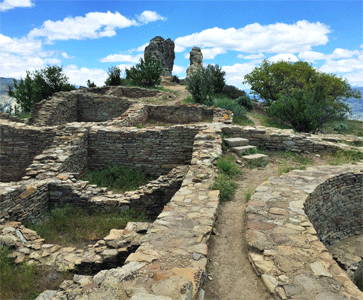 Chaco Culture, c. 1200 C.E.; located near Durango in Southwestern Colorado, In 1987, Dr. J. McKim Malville, professor of Astrophysics at the University of Colorado at Boulde,r predicted from his calculations, that the northern MLS (Major Lunar Standstill) would be viewable from the "temple" at the top of the ridge, as the moon rises between the two Chimney Rock spires. This supports the idea that the ancient Chacoans were expert astronomers, who located and developed this site to view this 18 1/2 year cyclical lunar event. For more in-depth information about this extraordinary synchronicity see:
https://www.chimneyrockco.org/puebloan-resources/lunar-standstill/
Elevation of the "temple" near the top of the mesa spine is 2316 meters (7600 feet) above sea level and 304 neters(1000 feet) above the valley floor
Materials: mortarless stone walls, wood log roof structure, with mud/clay roof.
Data for CG model:
1.Topographic data from Huerfano Consultants, Denver, Colorado
2. Dr. Stephen Lekson, transmitted data.