Dharmarijika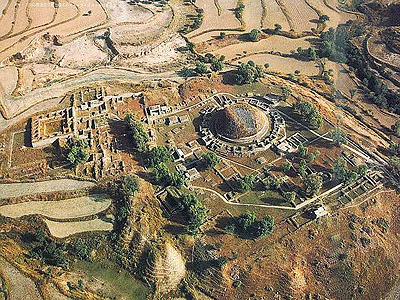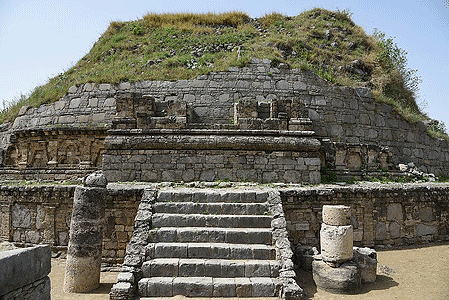 Dharmarajika (derived from "Lord of the Law") dates from the 2nd century CE, and its large stupa was built to house small bone fragments of the Buddha. The mound-like or hemispherical stupa containing the Buddha relics was -- and still is -- used as a place of meditation, and along with the large monastic complex that later developed around it, forms part of the Ruins of Taxila, which were inscribed as a UNESCO World Heritage Site in 1980.
The stupa and its monastic community are located in the Gandara region of Pakistan about 1 kilometer souheast of city of Sirkap (see page ) a position which aligns with ancient Gandharan beliefs that the Buddha recommended monasteries should be neither "too far" nor "too close" to adjacent towns. Three distinctive types of masonry in the buildings around the main stupa suggest the contributions of different cultures at different periods. Sir John Marshall excavated stupa in 1913.
Elevation is c. 533 meters (1750 feet) above sea level.
Materials: Walls of stone (in the pattern shown here, possibly plastered) , with wood roof structure (possibly with clay and plaster roofing layers).
Data for this CG model from:
1. W. Rienjang 2018; 'Dharmarajika, Taxila', Gandhara Connections website,
<http://www.carc.ox.ac.uk/GandharaConnections/otherResources.htm>,
2. Chauley, M., 2019; Development Of Stupa. Architecture In India, ePub book.
3. Nakamura, Yuuka, 2016; Department of Architecture, Mukogawa Women's University, 1-13 Tozaki-cho, Nishinomiya, Hyogo, 663-8121, Japan,