Dimini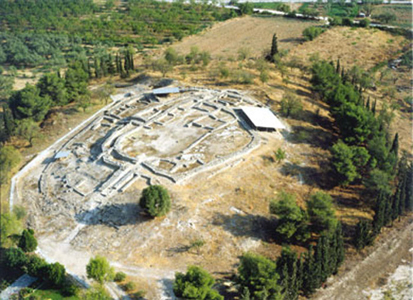 Greek Neolithic Mycenaean Civilization, from c. 4800 B.C.E. until decline c. 4500 B.C.E.; located near the Mesolithic settlement of Sesclo, and west of the modern city of Volos, in Thessaly, Greece; became a major central Greek center; in 1350 B.C.E. population of the citadel and lower town was around 300. The first settlement was located on the acropolic wtih its megaron and encircling walls, with later development on the nearby plain to the southeast.
Elevation is 31 meters (101 feet) above sea level.
Materials: mud brick houses built over local stone foundations, and wood, clay and straw; encircling walls made of local slate stone.
Data for CG model:
1. Sarris, A., Topouzi, S., Adrimi-Sismani, V., 2001. Μycenaean Dimini: Integration of Geophysi- cal Surveying and GIS, Laboratory of Geophysical-Satellite Remote Sensing and Arcaeo-environment, Institute of Mediterranean Studies-Foundation for Research and Technology, Hellas, and 13th Ephoreia of Prehistoric & Classical Antiquities, Ministry of Culture, Archaeological Museum of Volos, Volos, Greece
2. http://citeseerx.ist.psu.edu/viewdoc/download?doi=10.1.1.580.1202&rep=rep1&type=pdf
3. http://www.worldhistory.biz/ancient-history/67052-dimini-and-the-bay-of-volos.html
4. http://odysseus.culture.gr/h/3/eh3562.jsp?obj_id=2501&mm_id=657
5. http://odysseus.culture.gr/h/3/eh3562.jsp?obj_id=2501&mm_id=716
6. http://dostoyanieplaneti.ru/3991-nea-nikomediya-nea-nikomedeia