Galaz Pueblo Ruin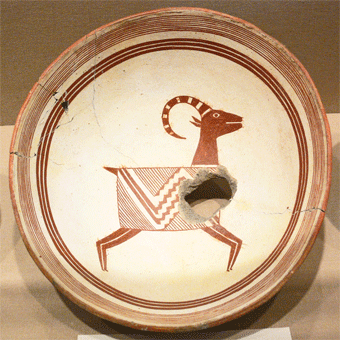 Above: Ceramic bowl found in a burial over the individual's face, with the typical intentional broken spirit hole. Mimbres pottery is known for its exquisite representation of myriad animals of the diverse southern New Mexico biota.
Mimbres Culture, occupied from 1000 C.E. to 1130 C.E. (Classic Period); located on the Mimbres River, 30 km east of Silver City, New Mexico. Galaz is one of the largest, longest occupied of the Mimbres villages. Mimbres pottery is famous for its wide variety of animal species depictions and for other cultural representations.
Elevation is c. 1830 meters (6000 feet) above sea level.
Materials: cobble set in adobe walls, wood log roof structure, with mud/clay roof.
Data for this model from:
1. Morgan, William N., 1994. ANCIENT ARCHITECTURE OF THE SOUTHWEST, University of Texas Press, Austin, Texas.