Kath Kuni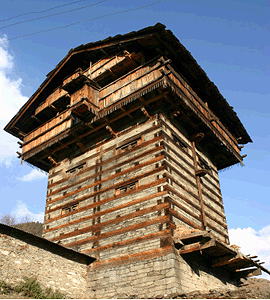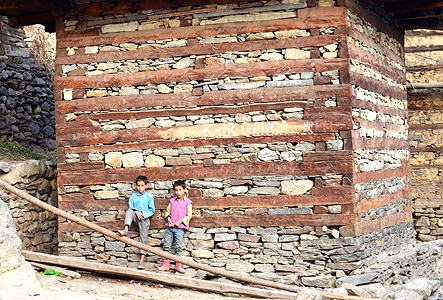 Hindu Temple and domestic architectue of Himachal Predesh and Uttarakhand, India; Himalayan construction technique evolved over centuries to withstand powerful and frequent earthquakes. Construction technique influenced many other cultures along the Silk Road. Alternating stone and wood layers in the walls gives the architecture flexibity to withstand seismic forces. In use from ancient times to present.
Elevation is c. 2010 meters (6600 feet) above sea level.
Materials: walls of deodar (from Sanskrit devadāru 'divine tree') cedar and kail trees, and mortarless local stone; main floor is adobe over stone plinth; upper floor wood planks. roof slate or wood shingles.
Data for this CG model from:
1. Dave, Thakkar, & Shah, 2013. Prathaa: Kath-khuni Architecture of Himachal Pradesh, CEPT University, SID Research Cell, Gujarat India.
( https://www.researchgate.net/publication/236014050_Prathaa_Kath-khuni_Architecture_of_Himachal_Pradesh )
2. https://www.slideshare.net/mansiarch/kath-khuni-of-himachal-pradesh-autosavedpdf-low
3. Joshi, Girish Chandra, 2008; Earthquake-safe Koti Banal architecture of Uttarakhnand, India, Current Science, September, 2008.
https://www.researchgate.net/publication/283412450_Earthquake-safe_Koti_Banal_architecture_of_Uttarakhand_India