Khirokitia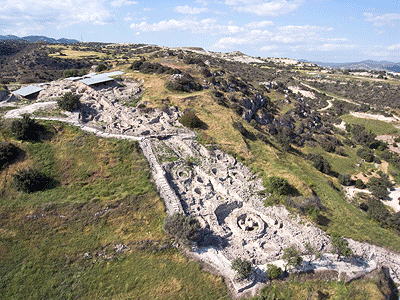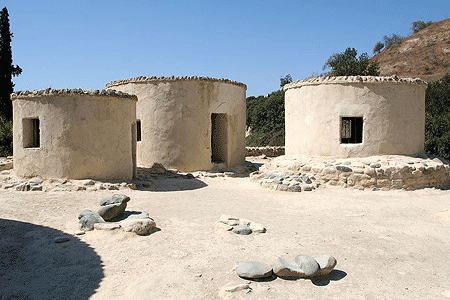 Early Cyprus Culture, from Neolithic Age eastern Mediterranean, 7000 B.C.E. to 3000 B.C.E.; 20 other similar settlements on Cyprus; this site located on the Maroni RIver about 6 km from the sea on the south coast. UNESCO World Heritage Site. There is an alterative hypothesis that roofs were masonry domes.
Elevation is 178 meters (584 feet) above sea level.
Materials: Pise and adobe mud walls with insulation, mud mortar, earth plaster, inside and out; wood roof beams, and mud, straw, and flagstone roofs. The wall constructions seems to indicate flat roofs versus domes.
Data for CG model:
1. Lapithis, Petros A., 2009. HISTORY OF SOLAR ARCHITECTURE IN CYPRUS, University of Nicosea, Cyprus:
( https://www.academia.edu/393912/HISTORY_OF_SOLAR_ARCHITECTURE_IN_CY PRUS.2003 ).
2. Le Brun, Alain, 1997. "Khirokitia, A Neolithic Site", Bank of Cyprus, Lefkosia, Cyprus: Cultural Foundation in collaboration with the Department of Antiquities.