Kin Tiel, Zuni Ancestral Puebloan Culture, North Eastern Arizona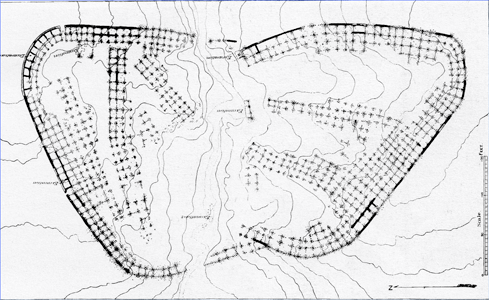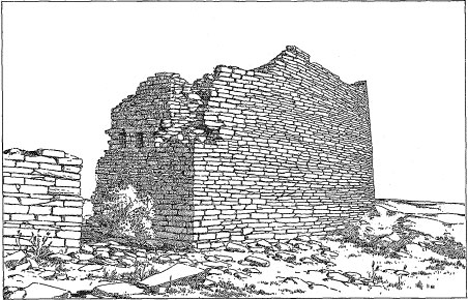 Top Left: Victor Mindeleff's survey of the Kin Tiel ruin plan, 1886-1887; Top Right: Kin Tiel ruin lone entrance through outer wall, drawn by Henry Hobart Nichols for Victor Mindeleff's survey report, 1891.
Zuni Ancestral Puebloan Culture, c. 1275 C.E., located 35 kilometers (22 miles) south of Ganado in North Eastern Arizona,
Elevation is c. 1920 meters (6300 feet) above sea level.
Materials: mortarless stone walls, adobe walls, wood log roof structure, with mud/clay roof, and log beams supporting building bridges over arroyo.
Data for CG model:
1 Mindeleff, Victor, 1891. A STUDY OF PUEBLO ARCHITECTURE: TUSAYAN AND CIBOLA, Eighth Annual Report of the Bureau of Ethnology to the Secretary of the Smithsonian Institution, 1886-1887, Government Printing Office, Washington.
2. Morgan, William N., 1994. ANCIENT ARCHITECTURE OF THE SOUTHWEST, University of Texas Press, Austin, Texas .