Mezhirich Bone Houses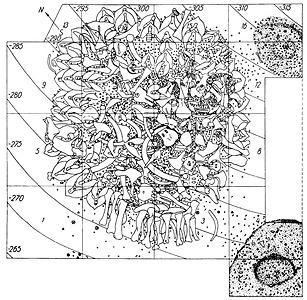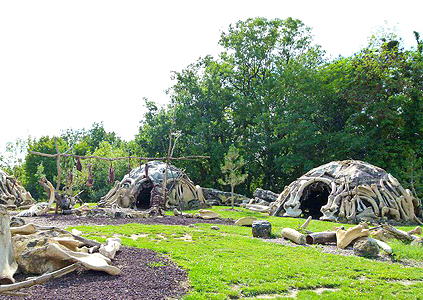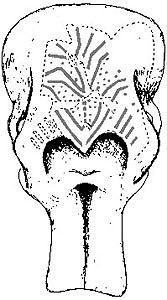 Cro-Magnon Culture, near Kiev, Ukraine, dated to Neolithic times, c. 13,000 B.C.E., constructed with mammoth tusks, skulls, and bones, which Cro-Magnon people mined from mammoth trap trenches constructed by Neanderthal people, 100,000 years earlier (!). Located in Ukraine, in the Kaniv Raion (district) of the Cherkasy Oblast province. Inhabitants lived near the southern seas during summer and migrated to these very cold sites during winter, where they remained inside most of the time, storing food brougnt the migration in cystes just outside the door; no evidence of winter hunting. The walls were made of stacked leg bones and mandibles.. The roof was made of tusks likely covered by insulating hides. More than a hundred mammoths mandibles used, were mined from a nearby 100,000 year old mammoth "graveyard" (of the earlier Neandertal humans). Pits were dug into the permafrost nearby may have been used to store frozen meat for a year-round meat supply. The site may be an early "village". in 2014, at the Kostenki 11 site, near Voronezh, Ukraine, adjacent to the Don River, archaeologists discovered a circular bone structure, 12.5 m (41 ft) in diameter, dating from 20,500 BCE, the coldest period of the last Ice Age. There was no obvious entrance to the circle, in which was found 51 lower jaws and 64 individual mammoth skulls, plus reindeer, horse, bear, wolf, red fox and arctic fox bones, that formed a wall perhaps 2 ft in height. The diameter of the structure was so large that it may not have been used as a dwelling; there is no evidence of a roof structure; the region had few trees for roof structure. Scientists theorize the structure may have been used for religiious ceremonies.
Elevation is c. 84 meters (276 feet) above sea level.
Materials: mammoth tusks, skulls, and other long bones; covered in skins and insulated with furs and pelts.
Data for CG model:
1. Pidoplichko, I. H. (1978); The Mezhirich mammoth-bone houses, Washington D.C.: U.S. Geological Survey.
2. Mezhirich - Mammoth Camp; (http://donsmaps.com/mammothcamp.html)
3. Pryor, Alexander, et al, 2020;The chronology and function of a new circular mammoth-bone structure at Kostenki 11, Antiquity Publications Ltd, 2020, Cambridge Universtiy Press;
https://doi.org/10.15184/aqy.2020.7