Mohenjodaro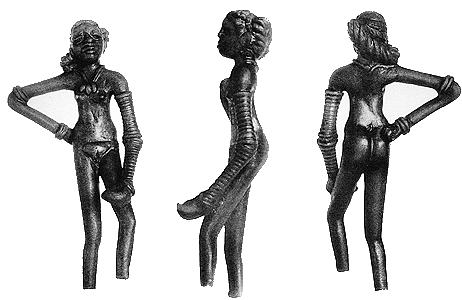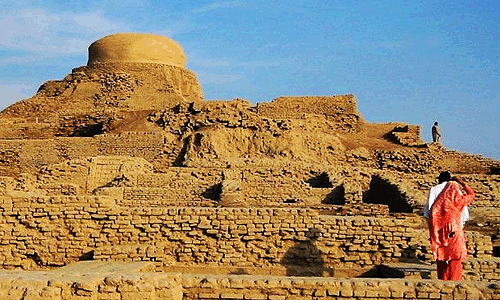 Harappan Civilization early urbanism located on the Indus River in Sindh Province, near the town of Larkana, Pakistan, beginning in 2400 BCE and abandoned in 1800 BCE. Earlier Indus Valley civilization founded settlements here from the 4th millennium BCE. The city was divided into an Citadel elevated 12 meters (40 feet) above valley floor, and Lower City close to river level. The Citadel contains a Buddhist stupa and surrounding monastery (founded 2nd century CE), Great Bath, Great Granary, Great Hall, and College Hall. The Lower City had a central marketplace and water well. There were approximately 700 small circular water wells (invented by the Haappans), a water supply system, and covered street-side sewage and waste water channels. Most residences, some two stories high, had central courtyards that opened to off-street side alleys. Mohenjo-Daro was not heavily fortified with defensive walls. The residential areas of the Lower City were built upon large earthen platforms. Many copper and bronze artifacts (produced using lost wax technology) were found during excavations at the site.
Elevation of the Citadel is c. 54 meters (178 fteet) above sea level.
Materials include fired and sun dried mortared brick and wood roof structures. Bitumen was used as a water sealant in the Bath and in roof construction.
Data for CG Model:
1. Wheeler, Sir Mortimer, 1953 ; The Indus Civilization, Cambridge University Press, London, 1953.
2. Vidal, Massimo, 2010; Aspects of Palace Life at Mohenjo-Daro, South Asian Studies, 26:1, 59-76.
https://doi.org/10.1080/02666031003737232
3. Jensen, Michael, Mohenjo-Daro, city of the Indus Valley, Endeavour, 1985, Pages 161-169.
https://www.sciencedirect.com/science/article/abs/pii/0160932785900729
4. Yoffee, Norman, 2015; The Cambridge World History, Part IV - Early cities and the distribution of power, Cambridge University Press, Cambridge University.
https://www.cambridge.org/core/books/cambridge-world-history/early-cities-and-the-distribution-of-power/377E0F34B49E3EA01F99175B7EFBAD4B