Monte d'Accordi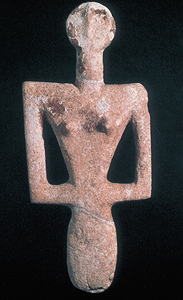 Ozieri culture neolithic archaeological site near the Mediterranean Sea in northern Sardinia, located in the Sassari territory. The earliest phase of this massive raised stone platform, dated to 4000 BCE to 3650 BCE, is thought to have been an altar. The altar was on a 27meters x 27meters (88 feet x 88 feet) base plinth was probably 5.5 meters (18 feet) high, and was accessed by a ramp. Chambers or entrances to this mound have not been found; it may have been an temple altar or step pyramid also serving as an observation post. This Ozieri structure was destroyed around 3000 BCE. The second culture, the Abealzu-Filagosa, in 2800 BCE, covered the ruins with layers of earth and stone, and a second platform of large limestone blocks was used to build a second platform topped by a truncated pyramid 36 meters x 29 meters x 10 meters high (36 feet x 95 feet x 33 feet high). The second temple, which was used for cultic animal sacrifices of sheep, cattle and swine, may derive from contemporary Mesopotamian ziggurats. Monte d'Accordi is one of the oldest Western Mediterranean sacrificial sites. At the beginning of Sardinia's Neuralgic age, around 1800 BCE, the site was finally abandoned. The two phases of construction are shown here in one of the computer reconstructions.
Elevation is near sea level.
Materials are earth and stone; roof structure unknown.
Data for CG model:
1. Ercole Contu, L'altare preistorico di Monte d'Accoddi, Carlo Delfino Editore, Sassari, 2000.
https://web.archive.org/web/20060901012459/http://www.sardegnacultura.it/documenti/7_4_20060402100930.pdf