My Son Sanctuary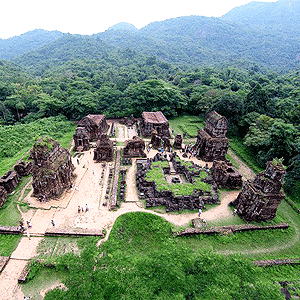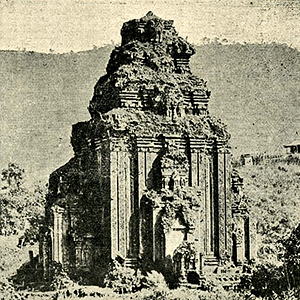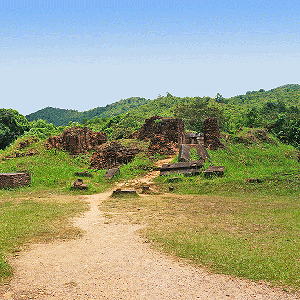 Champa Culture, South Vietnam; Hindu Temple Sanctuary located 69 km southwest of Danang, near the village of Duy Phú , in Quang Nam Province, My Son is the former capital of the Champa Kingdom, from c. 4th century C.E. to the 15th century C.E and the focus of the Royals' Hinduism. The French archaeologist, Henri Parmentier, did extensive surveys of the central Shiva (Bhadresvara) Temples at the end of 19th century C.E. during the French Occupation of Vietnam, at which time ruins of 70 temples existed; of these, only 25 ruins remain today, after extensive U.S. bombing during the American War. Note the "saddle" roof, a connection to the ancient Yoyoi Period of Japan. The structures are made from fired and finely tooled clay bricks, the paper-thin mortar composition for which remains a secret. The site was recognized as a World Heritage site in 1999.
Elevation is c. 45 meters (149 feet) above sea level.
Materials: Fired brick with integrated stone architectural details. There is controversy as to whether the bricks were fire before or after placement. Also, the mortarless bricks are glued together with a still mysterious substance.
Data for CG model:
1. Parmentier, Henri,1909; Inventaire Descriptif des Monuments Čams de L'Annam: Planches d'après les relevés et les dessins de l'auteur. Publications de l'École française d'Extrême-Orient 12: Inventaire Descriptif des Monuments Čams de L'Annam. Ernest Leroux, Paris.
2. Photographs from personal visit to site, 2013.