Ness of Brodgar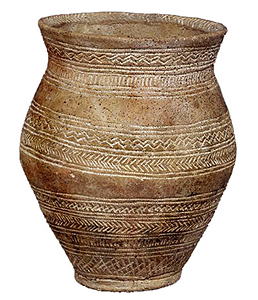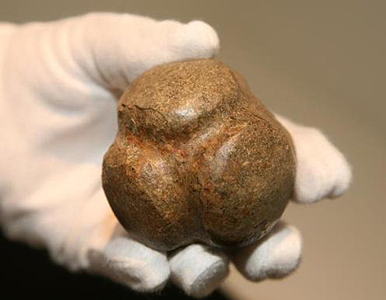 Located in Scottish Orkney, on an island about 6 miles north-east of Stromness on the Mainland of Scotland. The site is on the treeless Brodgar peninsula, near to and in the center of a "chain of beads" of other Neolithic Orkney monuments — the megalithic Stones of Stenness, Maeshowe chambered cairn (see page ), the Ring of Brodgar, and many neolithic villages including Barnhouse and Skara Brae (see page ). Construction began in 3300 BCE, during Neolithic times, and was abandoned and partially dismantled by 2200 BCE.

The excavation of the site, begun in 2002, led to the discovery of this Neolithic temple complex, unequaled in western Europe. The extraordinary stone walling that stood for thousands of years, and although buried, some portions still stand to a height of 2 meters ( 6.5 feet).
The Ness was center of a wealthy farming community, a community meeting place, and a center of innovation of sophisticated arts and crafts that influenced later Stone Age structures, such as Stonehenge, 1100 km. (700 mi.)to the south. Excavations have unearthed evidence of trade from other British islands and mainland, including the Isle of Arran, the Lake District, and Boyne Valley, Ireland.
Elevation: sea level.
Materials of construction: massive sandstone walls (some walls are 6 metres (20 ft) thick, gabled log roof structure covered with stone tiled roofs.
Source of data for cg model:
1. Card, Nick, 2013; The Ness of Brogan: more than a stone circle, in British Archaeology, January February, 2013.
2. Ackerman, Neil C, 2019 ; Neolithic Roofing at the Ness of Brodgar, University of the Highlands and Islands Archaeology Institute.
https://www.uhi.ac.uk/en/research-enterprise/res-themes/humanities-and-arts/ruination--decay/
3. https://www.odysseyadventures.ca/articles/nessBrodgar/articleNess_02.site.htm
4. Youtube: Card, Nick, 2021; Ness of Brodgar: as it stands, Current Archaeology,
https://www.youtube.com/watch?v=P4JqnpL39d0