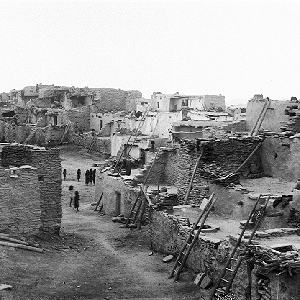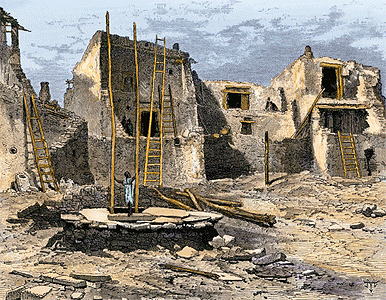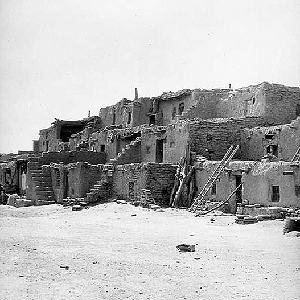 Above Center: Oraibi Terraced Houses with entrance to underground Kiva, etching by J.Minton, 1870s
Hopi Ancestral Culture, occupied continuously from 1150 C.E. through present; located on Hopi Third Mesa, in nothern Arizona. Oraibi is one of the oldest continuously inhabited villages in the U.S.
Elevation is 1847 meters (6062 feet) above sea level
Materials: mud mortared stone walls, adobe plastered walls, wood log roof structure, with mud/clay roof.
Data for CG model:
1. Cameron, Catherine M., 1999. HOPI DWELLINGS, ARCHITECTURE AT ORAYVI, University of Arizona Press, Tucson, Arizona.
2. Morgan, William N., 1994. ANCIENT ARCHITECTURE OF THE SOUTHWEST, University of Texas Press, Austin, Texas.
3. Mindeleff, Victor, & Mindeleff, Cosmos, 1891. A STUDY OF PUEBLO ARCHITECTURE: TUSAYAN AND CIBOLA, Eighth Annual Report of the Bureau of Ethnology to the Secretary of the Smithsonian Institution, 1886-1887, Government Printing Office, Washington, D.C..