Pueblo de los Suenos Townhouses,
Kit Carson Road, Taos, New Mexico, 2002-2006
Consulting Structural Engineer: Walla Engineers, Inc.
Master Builder: Edward Bell
Landscape: Gecko Landscaping Inc.
The 20 townhouses in Pueblo de los Suenos, located on East Kit Carson Road, are designed in the Taos Pueble idiom, which is distinct from the Hispano Northern New Mexico idiom. Phase One, to the east of Simpson Street, has separate parking with roof shed to the north of the houses; the houses are without attached garages which allows for a dense village environment with walkway alleys connecting the separate parking to the front doorways. Phase Two houses, to the west of Simpson Street, have attached one or two car garages, and are clustered around a central plaza with waterfall landscape, and pathways radiating outward to all the detached house doorways. Both phases have rich landscape and water features, and the design preserved almost all of the existing mature trees.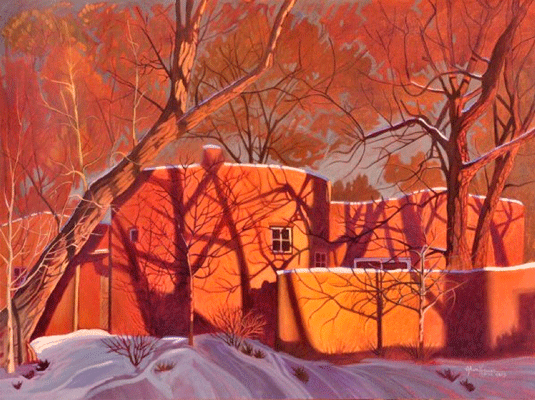 'Evening Shadows on Round Taos House', painting inspired at Pueblo de los Suenos from Taos Artist, Art West (Alan Heuer).