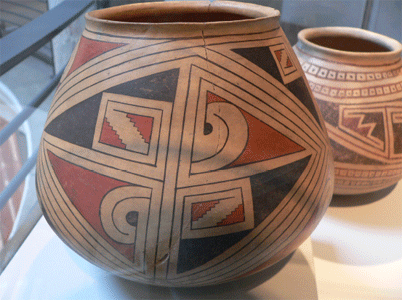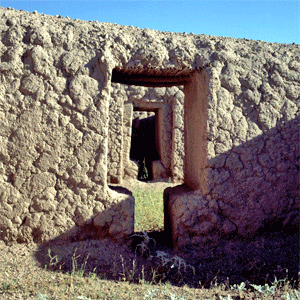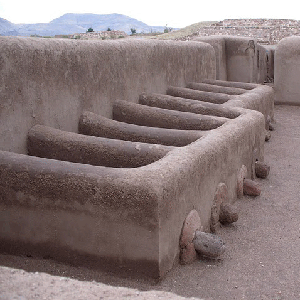 Above left: Characteristic ceramic pottery and motifs of Paquilme.
Above center: Enigmatic and characteristic T-shaped doorway passages of Ancestral Puebloan architecture.
Above right: a courtyard in the ruin with macaw pens, the openings all plugged with characteistic stones.
Mogollon or Late Chacoan Cultures (a controversy), occupied 1130 C.E. to 1450 C.E., located 56 km south of Janos, Chihuahua, Mexico. Of all the ancient Southwest Pueblos, the mysterious T-shaped doors are most numerous in Paquime. The Pueblo contains extraordinary public ceremonial architecture unique in the known ancient Puebloan world. At Paquime sophisticated hydrological engineering was utilized to bring water courses directly through the interior rooms of the architecture. The presence of several large ball courts, indicates the fusion of Puebloan and Central American cultures.
Elevation is 1480 meters (4857 feet) above sea level.
Materials: Adobe walls; wood log horizontal roof beams; mud/clay roof.
Data for CG model:
1. Di Peso, Charles, 1974, Casas Grandes, A Fallen Trading Center of the Gran Chichimeca, vols. 4&5, Dragoon, Arizona: Amerind Foundation and Northland Press.