Posi-Ouinge Pueblo ("Greenness pueblo")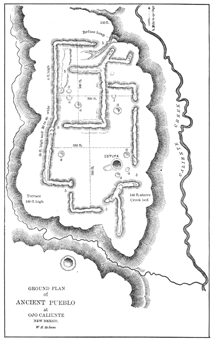 Tewa Culture ancestral village, occupied from 1350 C.E. to 1550 C.E.; located on a terrace on the west bank of the Ojo Caliente River, about .5km south of the hot springs of Ojo Caliente ("Hot Eye"), New Mexico.
Elevation is 1927 (6323 feet) above sea level.
Materials: adobe walls, wood log roof structure, with mud/clay roof.
Data for CG model:
1.Survey topography maps from the U.S. Department of Interior Bureau of Land Management, 1990