Poulnabrone Dolmen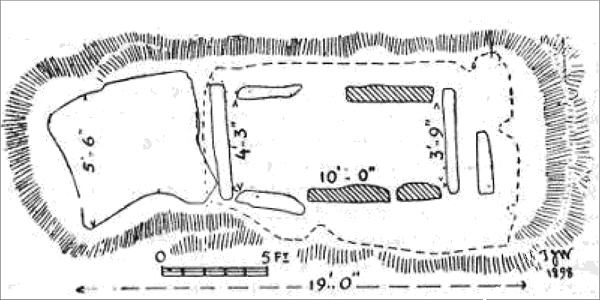 Neolithic farming culture of Ireland, constructed between 4200 BCE and 2900 BCE, located in the sparsely populated area of west Ireland in the Burren National Park, County Clare. This is an example of a classic portal tomb--a single-chamber, megalithic tomb distinguished by a capstone resting on upright stones. What remains today is only the "stone skeleton" of the original monument, which would originally have been covered with soil, and its flagstone capped by a cairn. There are about 200 dolmens of this type still in existence in Ireland. Radiocarbon dates from Poulnabrone indicate that the burials of twenty two individuals and grave goods were deposited at regular intervals over a period of 600 years between 3800 and 3200 BC, suggesting that the monument was probably a significant place of burial for elites. Archaeologists surveying the site have concluded that Poulnabrone was erected as a doorway between this world and the next based upon artifacts uncovered there and the slant of the capstone. The method of how these large stones were moved from their original location is unknown, but may have involved rollers, ropes, and human/animal power, using ramps on the sloping sides of the original cairns. The capstones weighed as much as 100 tonnes (220,500 lbs).
Elevation is c. 142 meters (465 feet) above sea level.
Materials: Limestone karst from the immediate vicinity.
Data for CG model:
1. Lynch, Ann, 2014. Poulnabrone: An Early Neolithic Portal Tomb in Ireland. Dublin: Wordwell Books,
2. Lynch, Ann, 1988. "Poulnabrone: A Stone in Time". Archaeology Ireland, Volume 2, No. 3,