Ronald Davis Studio & Residence Hogans,
Hondo Mesa, Arroyo Hondo, New Mexico, 1990 - Present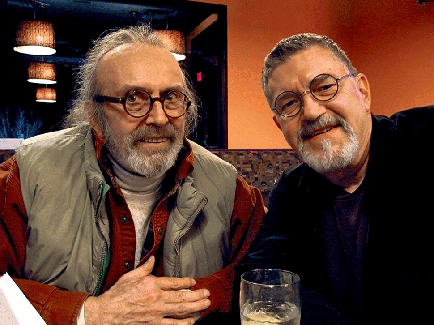 Ronald Davis (left) and Dennis Holloway (right) enjoying conversation about life. Photo by Barbara Davis, who is sitting at the table and leading the conversation at this moment.
In 1990, the Los Angeles artist, Ronald Davis, phoned Dennis Holloway and inquired about the Colorado Solar Hogan Demonstration, in Boulder Colorado, which he had been reading about in the L.A. Times. The result was a collaboration between artist and architect for a new Taos, NM, Davis Residence and Studio (initally called the "Buck Westwood" Studio--for a mythical western hero, loved and admired by all-- including Native Americans!) The artist was enamored with the Navaho hogan idiom--especially the crib dome--and had for years been doing art pieces directly relating to this profoundly spiritual Native American geometry. From inital discussions about the project at the site in Arroyo Hondo, Taos County, NM, and at a coffee house on a Malibu, CA, beach, the concept that evolved from innumerable napkin sketches, called for a series of autonomous traditional and modern polygonal hogans that varied in the number of sides from five to twelve, and are not linked together or connected by corridors..
Each hogan contains a different function and is not connected to other hogans by corridors or interior space connections. Each hogan stands free in space. Each has an entry door facing the traditional east--which coincidentally, is the direction towards the spiritual focus of Taos Valley--Wheeler Peak, known by the locals as .
The building program of spaces evolved to contain each functional space in a varying polygon form in the following schema:
guest kitchen--six-sided
guest bedrooms five, six, and eight-sided
guest painting and sculpture studio in a double five-sided
master bedroom nine-sided
living room eleven sided
computer-studio within seven-sided
sculpture studio eleven-sided
gallery twelve-sided (with a solar venting tower as an extended crib dome)
Today, only the first phase of construction is completed. Local materials of pumice-crete (volcanic beads mixed with a small amount of cement), adobe bricks and plaster, and vigas (logs) are the primary media for the architecture. The artist has expanded the depth of the composition by placing his polychrome crib-dome sculptures, Hondo Spirit Hogans, contiguous to the complex of hogans--resulting in a lyrical art field on the edge of the Rio Grande Gorge and near to Manby hot springs. The project, originally unique to the Taos Valley, has inspired other people, in the neighborhood to mime the hogan theme.