Skara Brae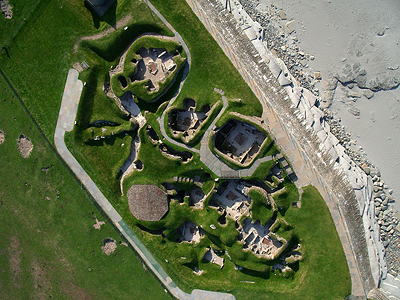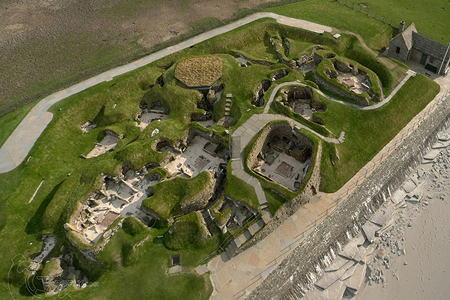 Culture of Grooved Ware People, a complex of houses, located on the Bay of Skaill on the west coast of Mainland, the largest island in the Orkney archipelago of Scotland, occupied 3180 B.C.E.–2500 B.C.E., (older than the Pyramids and Stonehenge), World Heritage Site. The eroding coastline has come very close to the ruin of the houses over the centuries since they were inhabited.
Elevation is at coastal sea shore.
Materials: stone walls in earth berms; wood roof structure; sod and thatch roofing.
Data for CG model:
1. Dineley, Merryn & Dineley, Graham, 2000. From Grain to Ale. Skara Brae, Orkney: a case study,:
Part of Chapter 16 Neolithic Fair, Skaill House, Sandwick. Published in 'Neolithic Orkney in its European Context' edited by Ritchie, Anna, published by MacDonald Institute for Archaeological Research, University of Cambridge, UK, Oxbow Books.
2. http://www.clanmacnaughton.net/docs_articles/SKARA%20BRAE%20ORKNEY%20ISLANDS.pdf