Stepwell (Bawdi) of Panna Meena ka Kund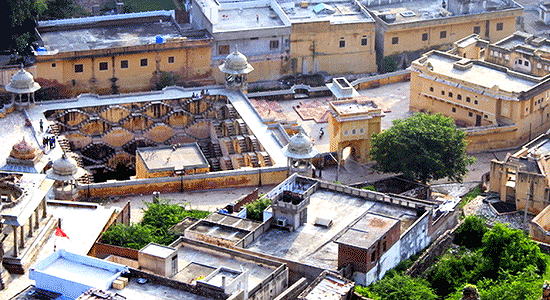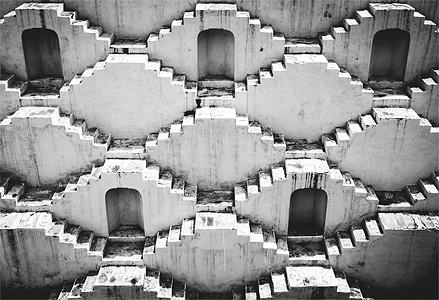 India Hindu civilization, built c. 1550 CE in Jaipur, India. These man-made ponds, significant ornamental architectural structures, are excavated eight stories (or more) into the earth to capture and store ground and rain water for irrigation, bathing, and washing, to cope with seasonal rain fluctuations in an arid region of India.; developed and used from third millennium BCE Mohenjo-daro civilization, to present. The step wells of India were originally for religious and ceremonial purposes, and eventually became a community and political focus for village women, the traditional water carriers. The designs of step wells feature intricate geometrical labyrinthine stairways.
Elevations is c. 432 meters (1416 feet) above sea level.
Materials: stone.
Data for CG model:
1. Pandey, Anjali, 2016. BAWDI: THE ELOQUENT EXAMPLE OF HYDROLIC ENGINEERING AND ORNAMENTAL ARCHITECTURE, International journal of Research - Grantaalayah, Vol. 4 (Iss.1): January, 2016.
( http://granthaalayah.com/Articles/Vol4Iss1/28_IJRG16_A01_39.pdf ).
2. Kalyanaraman, S. (unknown date). Sarasvati civilization heritage of puṣkariṇī,'temple pond' in front of ziggurat, Stepwells in the world, 2214, Stepwells in India, 2117
https://www.academia.edu/37237073/ Sarasvati_civilization_heritage_of_puṣkariṇī_temple_pond_in_front_of_ziggurat_Stepwells_in_the_world_2214_Stepwells_in_India_2117
3. https://kknews.cc/zh-hk/travel/856rv8g.html