Tipi Prototype, Great Plains Native American Cultures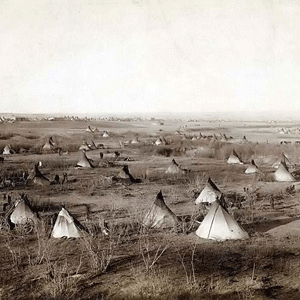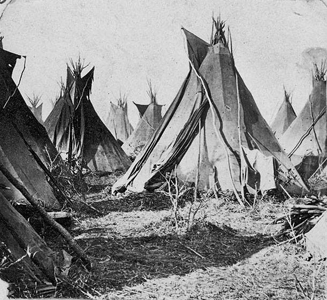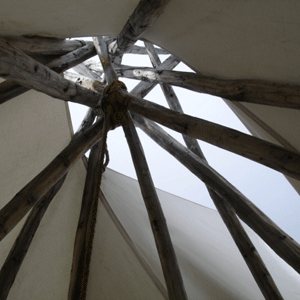 Above left: The Great Hostile Camp. Bird's-eye view of a Lakota SIoux camp, probably on or near Pine Ridge Reservation, South Dakota. photo by John C. Grabill, 1891: Above center: Dakota lodges at Fort Snelling during 1862 - 1863 after the Sioux uprising. These were located on the river bottoms inside a log stockade where the Dakota prisoners were kept; Above right: Looking up at the apex of the tipi pole crossing and open smoke vent hole, also a source of interior day lighting.
Plains Native American Cultures, from 2000 B.C.E.; the traditional house of tribes migrating with buffalo heards, dissembled and dragged by dogs (later by horses); still in use; Tipis were used by all tribes in the Great Plains from Texas to southern Canada.
Elevation varies with buffalo migrations in the American Plains.
Materials: lodge pole pine poles covered originally with stitched buffalo skins, later with canvas; floors are ground covered with furs and blankets.
Data for CG model:
1. Laubin, Reginald, Laubin, Gladys. Vestal, Andy, 1957; The Indian Tipi: Its History, Construction, and Use, 2nd Edition; University of Oklahoma Press, 1957.
2.Nabokov, Peter and Easton, Robert, 1989, NATIVE AMERICAN ARCHITECTURE, Oxford University Press, New York and Oxford.