Tuzigoot (Apache for "crooked water")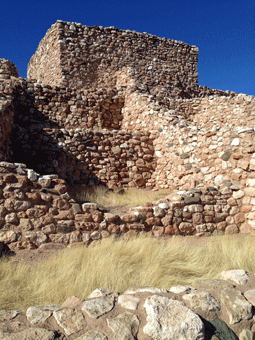 Sinaqua Culture, constructed and occupied between 1125 C.E. and 1400s C.E.; located above the Verde River, northeast of Prescott, in Central Arizona.
Elevation is 1041 meters (3418 feet) above sea level.
Materials: walls: sandstone or limestone, mortar used on tallest walls, up to three stories; wood log roof structure, with mud/clay roof.
Data for CG model:
1. Morgan, William N., ANCIENT ARCHITECTURE OF THE SOUTHWEST, University of Texas Press, Austin, Texas, 1994.