Vadakkunnathan Temple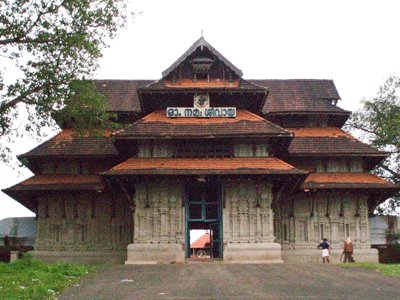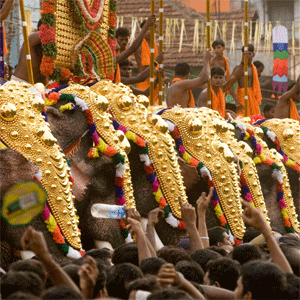 Dated at c.700 C.E. (possibly much earlier), one of the oldest Hindu temples in Southern India with Sanctum sanctorums dedicated to diety Shiva as Vadakkunnathan, Shankaranarayana and Rama. Located in Thrissur, Kerala state, India. The northern side of the main sanctum is a circular structure with central Shiva facing west and behind him is Parvati facing east; the two-storied rectangular shine to the god Rama faces west and is located in the south; between these two sanctums stands the third one, circular and double storied in shape, dedicated to Shankaranarayana, the combined form of Shiva and Vishnu, facing west. In front of each of these three shrines stand halls (mukhamandapams). The central sanctum is surrounded by a massive stone wall enclosing an area of 9 acres (36,000 sq.m.), and includes three massive entry gates in the four cardinal directions. Only Hindus are allowed to enter.
Elevation is c. 30 meter (97 feet) above sea level.
Materials: stone and wood.
Data for this CG model:
1. CEPT University (formerly the Centre for Environmental Planning and Technology, Ahmedabad, Gujarat, India), Archives for the built environment, design, and culture in India: Thrissur Vadakkunnathan Temple.
( http://www.ceptarchives.org/Collection ).