Walpi ("place in the notch"), Hopi First Mesa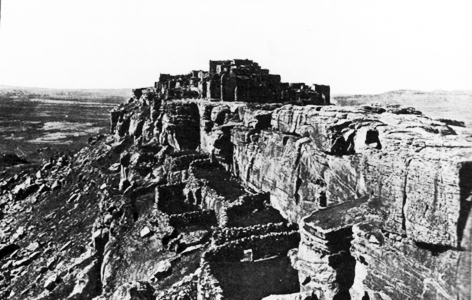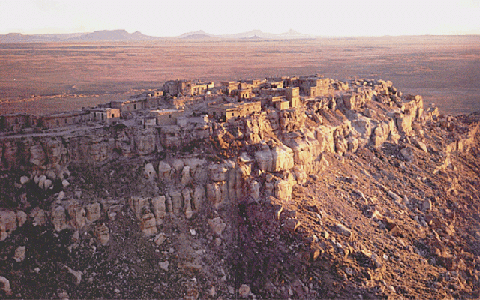 Hopi culture, built beginning c. 900 C.E., located on the top of a narrow ridge, 300 feet above the canyon floor in northern Arizona, on Hopi First Mesa, east of Grand Canyon on Arizona State Route 264. The village was established after the Pueblo Revolt of 1680 against the Spanish Missions. as a refuge from possible reprisals. Walpi, like Old Oraibi (Hopi), is one of the oldest continuously inhabited villages in the U.S. Today the village is without electricity and water must be brought up from the canyon floor.
Elevation is 1869 meters (6135 feet) above sea level.
Materials of construction: Mud mortared and mud plastered stone walls, log roofs with reed matting and earth/clay roof.
Data for CG model:
1. Morgan, William N., 1994. ANCIENT ARCHITECTURE OF THE SOUTHWEST, University of Texas Press, Austin, Texas.
2. Mindeleff, Victor, & Mindeleff, Cosmos, 1891. A STUDY OF PUEBLO ARCHITECTURE: TUSAYAN AND CIBOLA, Eighth Annual Report of the Bureau of Ethnology to the Secretary of the Smithsonian Institution, 1886-1887, Government Printing Office, Washington, D.C..