Aborigine Gable House Evolution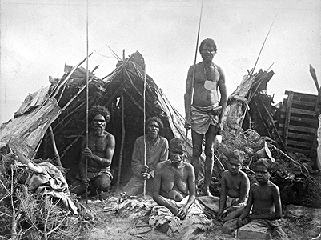 Aborigine Culture, Western Australia rainforest, Bellenden Ker in Yidinjdji country, in use from prehistoric times, constructed with wooden frame covered in spinifex cladding. Shown in evolution of variations of simplicity.
Elevation is near the sea coast.
Materials: bent wood frame with spinifex grass thatch or bark roof.
Data for this CG model:
1. Memmot, Paul, 2007.The Aboriginal Architecture of Australia, University of Queensland Press, Queensland, Australia, ; https://books.google.com/books?id=xNhsTkT6MZ8C&pg=PA165&lpg=PA165&dq=Arnhem+Land+repertoire+of+ethno-architecture+types+recorded+by+Donald+Thomson&source=bl&ots=yLfrRHlvt7&sig=ygOvvPOm4MCtux3YmfI8tLIGF9o&hl=en&sa=X&ved=0ahUKEwiI0I7d_v7ZAhVH44MKHX--ByUQ6AEIKjAA#v=onepage&q=Arnhem%20Land%20repertoire%20of%20ethno-architecture%20types%20recorded%20by%20Donald%20Thomson&f=false
2. https://www.pinterest.co.uk/pin/353462270735733824/?lp=true
3. https://www.google.com/search?biw=1925&bih=1500&tbm=isch&sa=1&ei=XBqzWsWRJOjHjwTXprqgDw&q=Aboriginal+Shelter+Australia+Queensland+&oq=Aboriginal+Shelter+Australia+Queensland+&gs_l=psy-ab.12...8758.17013.0.18713.4.4.0.0.0.0.150.566.0j4.4.0....0...1c.1j2.64.psy-ab..0.0.0....0.-o_xBpvoqV8