Great Pit of Zawyet el-Aryan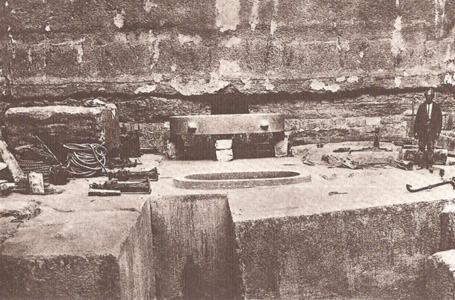 Egyptian 3rd Dynasty, located just south of the Giza Pyramids, possibly constructed during the time of Pharoah Khaba (from 2686 BCE to 2613 BCE), is thought to be a sub-surface remnant of a now vanished pyramid, although there is not much evidence that the pyramid was ever completed. The Pit, an enigma to egyptologists, is 21 meters deep with a rectangular plan 28 meters by 14 meters and is aligned to the compass. A 5.8 meter wide ramp and stair corridor, descend into the pit from the due North. First excated in 1904, by Alessandro Barsanti, the floor of the pit was found to contain an oval lidded tank (or sarcophagus) with articulated rim carved from one monolithic block of well polished pink granite. The lid sealed the tank, which was found to be empty. The adjacent floor stones weighing as much at 30 tonnes, made of pink granite are in the core of the otherwise limestone blocks and are fitted together like a zigsaw puzzle. The purpose of the Geat Pit is unknown.
Elevation: The Giza plateau is approximately 60 meters (196 ft.) above sea-level.
Materials of Construction: walls excavated in bedrock, plastered, with sandstone and pink granite floor.
Data for CG model
1. Hamilton, Keith, 2017; The Great Pit of Zawiyet el-Aryan, A Layman's guide, found in https://keithhamilton.academia.edu/research
2. Barsanti, Alessandro, 1904–1905; Fouilles de Zaouiét el-Aryán (1904–1905). In: Annales du service des antiquités de lÉgypte - Súppleménts (ASAE), 7. Ausgabe 1906. Institut Français d'Archéologie Orientale, Kairo.