High Bank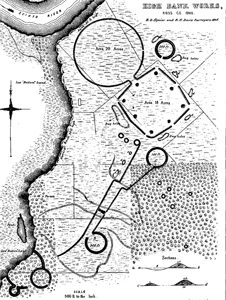 Above: High Bank mounds survey by Squier and Davis, 1848.
Hopewell Culture (probably), Early Woodland period, 500 B.C.E - 200 C.E.; located on the east bank of the Scioto River, southeast of Chillicothe, Ohio, about 40 miles northeast of Serpent Mound.
Elevation is c. 30 meters 100 feet) above sea level.

Materials: earth.
Data for CG model:
1. Morgan, William N., 1980. Prehistoric Architecture in the Eastern United States, MIT Press, Cambridge, Massachusetts and London, England,.