The Osireion at Abydos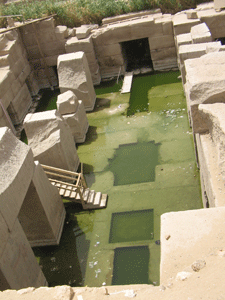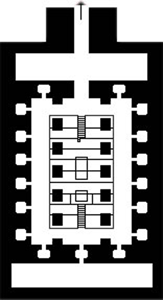 Above left: Looking down into the Osireion runs at Abydos, during a high water table (Photo: Steve F.E. Cameron. Above right: Osireion underground floor plan.
Built by an ancient civilization at Abydos, Egypt, The Osireion, thought to be the cenotaph or tomb of the god, Osiris, the Lord of the Realm of the Dead, is an architecture of indefinite origin. Strabo, the Greek geographer, who visited it in the 1st century CE, thought the Osireion was built by Amenemhat III, who is also thought to have erected the Hawara Labyrinth (see page ). Because modern archaeologists have found a cartouche of Pharaoh Seti I embossed on a dovetail within the granite construction, the Osireion is now thought to date from the early 13th century BCE; but the size of the stones, including the central columns suggest a much older megalithic pre-dynastic source to some scientists. The central island of columns is surrounded by a moat of water,the source and depth of which is unknown. Seismic research has revealed that the stone construction of the island of columns and the thick surrounding niched wall are twice as deep as the construction above the floor of the island is high. There has been no proof yet that this deep stone construction has any foundation, other than the 900 meter deep deposit of gebel (water-saturated clay). This makes the Osireion a very unique and enigmatic ancient engineering feat.
Elevation is c. 70 meters (229 feet) above sea level.
Materials: underground megalithic granite lintel beams and columns, and sandstone floor, walls, and underground roof .
Data for CG model:
1. Hamilton, Keith, 2018; The Osireion, A Layman's Guide, published online by Academia.edu:
https://www.academia.edu/37568156/The_Osireion_A_Laymans_Guide.
2. Howson, W, 2019; Osireion - One night's thoughts, four years work..pdf, published online by Academia.edu:
https://www.academia.edu/38260074/Osireion_-_One_nights_thoughts_four_years_work..pdf