Ramasseum Mortuary Temple - Catenary Vaults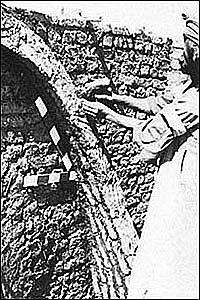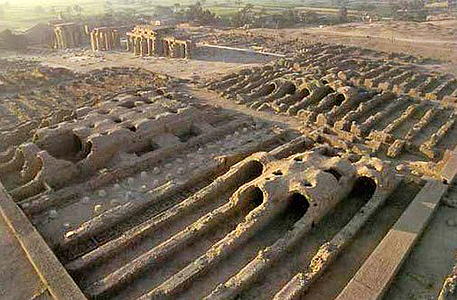 New Kingdom Egypt, Ramasseum Mortuary Temple for Pharaoh Ramesses,II, incorporates around the central temple a maze of mud brick parabolic (catenary) vaults constructed completely without the use of wood centering (vis-a-vis, the Roman method), began construction in c.1277 B.C.E. across the Nile River from Luxor, Egypt. This construction method was revived by 20th Century C.E., Egyptian architect, Hassan Fathy.
Elevation is c. 90 meters ( 295 feet) above sea level.
Materials: For the Catenary vaults: mud bricks.
Data for CG model:
1. Collection of Google images: https://www.google.com/search?biw=1276&bih=1484&tbm=isch&sa=1&ei=MB-5Wp6tCoGUjQOclbDYCA&q=Ramasseum+catenary+vaults&oq=Ramasseum+catenary+vaults&gs_l=psy-ab.12...169522.181482.0.183674.15.15.0.0.0.0.119.1460.10j5.15.0....0...1c.1.64.psy-ab..0.0.0....0.C0AoCMLNdDc#imgrc=Hlt0zY4JuyxesM:
2. http://www.egyptian-architecture.com/JAEA2/JAEA2_Lightbody_Monnier
3 Fathy, Hassan,1989; Architecture for the poor: An experiment in rural Egypt. Cairo: American University in Cairo Press.
4. Emery, Virginia L., 2011, Mud-Brick Architecture. In Willeke Wendrich (ed.), UCLA Encyclopedia of Egyptology, Los Angeles. http://digital2.library.ucla.edu/viewItem.do?ark=21198/zz0026w9hb