Troy (Illium)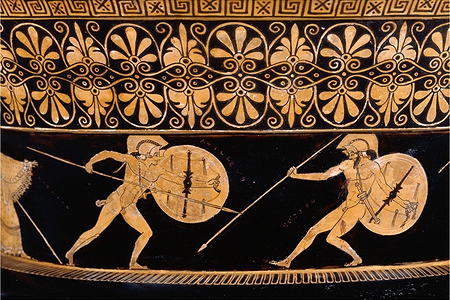 A city founded in 3000 B.C.E., early Bronze Age, and abandoned during the Byzantium Empire in 00 C.E. Located near Hisarlik, in Anatolia, Turkey (Asia Minor), near the southwest mouth of the Straits of Dardanelles. It was the site of many wars including the Trojan War (variously dated between the 12th and 14th century B.C.E.) described in Homer's epic poem, The Iliad. Roman poet, Virgil, in his epic poem, Aeneid, tells how the Trojan, Aeneas, a survivor of the Trojan War, traveled to Italy and became the ancestor of the Romans (including Julius Caesar). Troy was destroyed and rebuilt on the same hill (tell) at least nine times, including rebuilding by Alexander the Great, and a later restoration by the Roman Emperor, Augustus. . During the later phases, the city's walls expanded for larger and larger populations, and was organized as a grid of streets below the acropolis. That this is the actual site of Troy, as reconstructed here at this locaion, remains an archaeological controversy.
Elevation is c.34 meters (112 feet) above sea level.
Materials of construction: walls of rubble stone in the early phase, then cut stone, and mud bricks in subsequent phases, with roofs supported by wooden beams.
Data for CG model:
1. Easton, D.F., Hawkins, J.D., Sherratt, A.G., and Sherratt, E.S., 2002. TROY IN RECENT PERSPECTIVE, by, Anatolian Studies 52 (2002), pp. 75-109, Published by British Institute of Ankara.