Zulu House and Kraal (Kafir Village)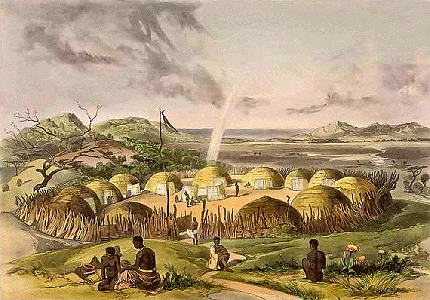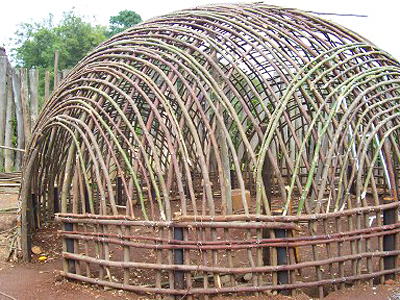 Above left: Painting: Zulu kraal near Umlazi Natal by George French Angas, 1849; Above right: Zulu house structure in construction.
Bantu Culture, Includes South Africa, KwaZulu-Natal Province, and Zimbabwe, Zambia, Tanzania, and Mozambique; from pre-historic times, still in use.
Materials: wooden sticks structure, thatch from braided split reeds and grass; termite mound mixed with dung sets into resilient stone-polishable flooring.
Data for CG model:
1. https://www.google.com/search?biw=1276&bih=1484&tbm=isch&sa=1&ei=4SW5Woz7NtLIjwOuq7WABQ&q=Zulu+House+and+Kraal+&oq=Zulu+House+and+Kraal+&gs_l=psy-ab.12...24422.24422.0.26285.1.1.0.0.0.0.85.85.1.1.0....0...1c.1.64.psy-ab..0.0.0....0.eRK5qij7QgM
2. https://www.google.com/search?biw=1276&bih=1484&tbm=isch&sa=1&ei=_SW5WsDXFMrmjwPiqZv4BQ&q=zulu+house&oq=Zulu+House+&gs_l=psy-ab.1.0.0i30k1l2j0i5i30k1j0i8i30k1j0i24k1l6.50030.50030.0.51481.1.1.0.0.0.0.119.119.0j1.1.0....0...1c.1.64.psy-ab..0.1.118....0.MShd_jezVEY