Zvartnots Cathedral (Temple of the Vigilant Forces)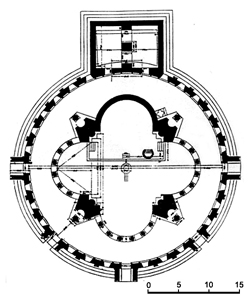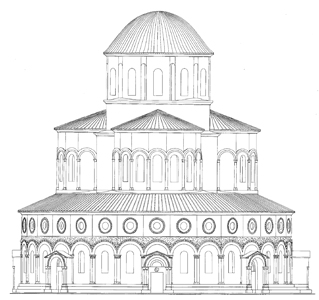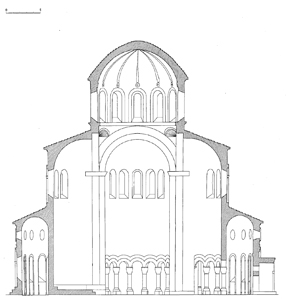 Zvartnots ("Temple of the Vigilant Forces" or "Temple of the Celestial Angels") was a majestic 45 meter (147 ft) high church (temple) in Early Christian Armenia, near Vagharshapat (Etchmiadzin). It was the most perfect example of classical centrical Armenian architecture that emerged in the V-VI centuries C.E. This earliest Christian architecture had enduring influence on the later developments of Romanesque, Gothic, and Renaissance architecture of Europe. The cathedral (temple) was built in 643-652 under orders from Catholicos Nerses the Builder, located at the place where a meeting between King Trdat III and Gregory the Illuminator was to have taken place. Gregory was the first preacher of Christianity in Armenia. After standing for 320 years, the temple fell into ruin, theoretically either destroyed by a severe earthquake in 930 CE, or as a result of Arab raids. The ruins of the temple were excavated in 1901 and 1917, under direction from Khpchik Dadian, who uncovered the foundation of the cathedral and the remains of the adjacent Catholicos palace and winery.
Various scholars have attempted to reconstruct the form, structure, and appearance of Zvartnots Cathedral. The first reconstruction by Toros Toramanian, who worked on the excavation, was rejected on technical grounds by Stepan Mnatsakanian and A. Kuznetsov, snd their reconstruction is the basis for the VR model shown here.
In 2000, the excavations were included in the UNESCO World Heritage List.
Elevation: 900 meters (2950 feet) above sea level.
Construction Materials: Entirely of volcanic tufa of many colors, with gray and brown tints predominant.
Data for CG model:
1.S.Mnatsakanyan, 1971, Zvartnots
Internet Archive
Summary: English translation from Russian, pp.146-151
https://archive.org/details/mnatsakanyan-1971-zvartnots/page/146/mode/2up